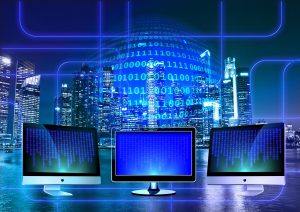 With the advanced development in form factors and cases, network security must be at the top of its game more than ever before.
Easily put, networking technologies used to be literally a cord (Ethernet cables) tying all the pieces of IT infrastructure together with guidelines to govern how it is done (TCP/IP protocol).
Today, computer systems still connect in some way or the other. However, we have moved away from using physical cords to make these connections. We now have networks that live in the cloud – some that are virtual and some that are connected through application software.
With this advancement, it is important that network security changes to cater for the new challenges as well.
Modern network security needs to support:
Full Coverage – It is not enough for network security to inspect incoming and outgoing traffic. Traffic within servers, communication in the cloud, workers accessing networks from remote locations and even software as a service (SaaS) applications need to be thoroughly scanned.
Encryption / Decryption capabilities – A research study done by ESG revealed that currently only 50 to 60% of network traffic is encrypted. This will increase. Therefore, network security needs to be able to decrypt traffic from all points.
Business-centric Segmentation – The priority of every network security should be to reduce any attack that comes around, whether it is within servers (east/west traffic) or user/devices and network-based services.
A Central Control Plane and Distributed Enforcement – All network security controls must have a centralized control panel. The control panel should be cloud-based and be capable to block all malicious traffic.
Comprehensive Monitoring and Analytics – Security analysis should have total access to network traffic analysis (NTA). This information can help analysts detect unknown threats and malicious activity.
Since changes will continue to be made, network security technologies must be built flexible to accommodate changes as they arise with little or no complication. However, strong policies and protocols need to be in place. Network security is there to minimize the risk of cyberattacks. It is not only essential to protect your network traffic, but it can help businesses decrease and detect attacks too.
Article first published on CSO.