Experience true practice management with gloPM
gloPM, the latest addition to the gloStream suite of products, is a powerful yet easy-to-learn and use practice management system. gloPM simplifies scheduling, billing, and creating practice reports. Built atop Microsoft® technology and embedded with Microsoft® Office, gloPM has a familiar Microsoft® "look and feel" and makes true practice management easier than it's ever been before.
Doctors all over the country are experiencing gains in office administration productivity by using gloPM to streamline calendar management and ensure claims are processed and paid quickly.
Dashboard
With gloStream products, doctors and practice managers have the flexibility to do their jobs effectively, efficiently, and in the way they are most comfortable. We don't take users through a series of pop-up screens and check boxes. Instead, users choose where they want to go from our central dashboard.
gloPM's dashboard gives you single-screen visibility into complete patient information like insurance details and appointment, billing, and payment history.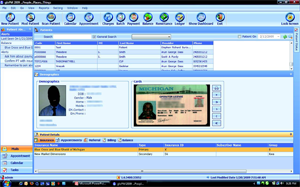 Like we do with all our products, within gloPM gloStream uses a variety of Microsoft®-based technology that makes the user experience rich and rewarding. Our goal is toalways have data where medical staff need it and want it, and we're focused on ensuring that critical data is never more than one click away.
Dashboard (contd.)
The gloPM dashboard provides users with a single screen from which they get a clear overview of each patient's record. On the dashboard itself, patient demographic information–data that office staff must always keep at their fingertips—is clearly viewable. In fact, insurance cards and driver's licenses can be scanned into the system. gloPM then pulls this information into our patient database and stores it. With just one click, users can access vital patient information, which includes:
Insurance details
Appointment history
Referring physician contact information
Billing data
Payment history and balance
The ribbon at the top of the dashboard gives users additional access to batch reporting or claims processing, the practice ledger, and other key practice management functions.
Scheduling
The backbone of every practice is the scheduling desk. It's incumbent upon scheduling to ensure the doctor's schedule is clear and well defined, to keep workflow running smoothly.
Simplify scheduling using gloPM's highly customizable calendar tools.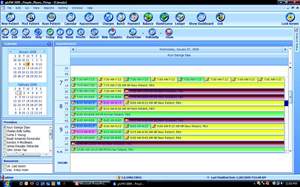 gloPM uses a simple scheduling philosophy: It's all about "people, places, and things," since these are the three main categories that require scheduling. People relates to doctors and patients, places to examination rooms, and things to resources such as diagnostic equipment. Users can quickly and easily schedule all three data elements, make changes by dragging and dropping entries, and even set up a new patient appointment directly from the scheduling screen.
gloPM's scheduling system is both robust and customizable. Users have access to day, week, and month views and each user can pre-define their view. In
addition, our permission system gives doctors and practice managers the ability to block time by color code to ensure only certain types of appointments are scheduled during particular days and times.
Doctors and staff also can view the gloPM scheduling system when they are out of the office. Our system fully integrates with personal digital assistants, Smartphones, and other mobile devices.
Billing
For years, practice managers and doctors have been looking for a billing system that would streamline the billing process by removing complexities and expediting insurance claims processing. Finally, that system is here.
Enjoy streamlined billing and claims processing through gloPM's integrated billing system.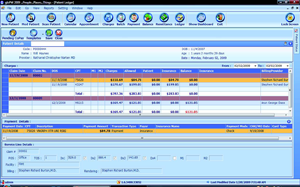 Information from gloEMR™ flows directly into our integrated billing system. With a single click, billers can access a full range of billing information from patient demographics to billing/procedure codes to claims status. Staff can even forecast when they'll be paid for services rendered. Integration with clearinghouses makes claims processing quick and easy.
The gloPM billing module features extensive claims scrubbing functionality. Before claims are submitted to insurance companies, they are checked and reconciled for errors. Billers receive feedback so that they can make the changes needed to ensure approval and speedy payment of their claims.
The software's single-screen views simplify navigation when editing payment information; staff can easily apply insurance reimbursements or review co-pay data. All of that information now exists on a single screen so staff can manipulate charge entries and watch as balance information changes right before their eyes, in real time. Staff also can send communications such as emails or facsimiles to patients directly from within the billing system, alerting them to overdue payments.
With gloPM, practices can gain control over their finances and enjoy the pleasure of a stress-free, revenue generating enterprise.
Reporting
gloPM's robust reporting system gives practices the big picture view of their scheduling and billing, so they can segment data for a better understanding of patient demographics.
Easily selectable and customizable report types include:
Claims reviewed
Transaction history
Transaction history analysis
Missing charges
Charge summary
Accounts receivable
Because gloPM has the full force of Microsoft® Office technology embedded within it, all reports can be exported to Excel® and distributed to practice staff.
The reporting functionality built into gloPM also gives doctors important data for making smart business decisions. For example, reports might show that emergency patient visits drastically increase in the winter but decrease in the summer. This data helps you forecast the staff schedule. gloPM also provides visibility into the types of services rendered and the home location of patients, so you can reach out to patients and prospects with targeted advertising or public relations campaigns.